Late-stage Clinical Program
Madrigal is conducting an extensive Phase 3 clinical program to support registration in the U.S., the EU and beyond. The long-term goal of the resmetirom development program is to demonstrate benefit to patients with NASH by reversing liver disease and/or preventing progression to more serious conditions including cirrhosis and liver cancer.
MAESTRO-NAFLD-1: A Phase 3 Safety and Tolerability Study
MAESTRO-NAFLD-1 is a 52-week Phase 3 multi-center, double-blind, randomized, placebo-controlled study of resmetirom, and was initiated in December 2019 in patients with presumed NASH. The primary endpoint for this study is to evaluate the safety and tolerability of resmetirom. Completion of enrollment of over 1,200 patients into the study was announced in October 2020.
Patients in MAESTRO-NAFLD-1 are randomized 1:1:1 to receive resmetirom 80 mg once a day, 100 mg once a day, or placebo. MAESTRO-NAFLD-1 does not include a liver biopsy and represents a "real-life" NASH study. NASH or presumed NASH is documented using historical liver biopsy or non-invasive techniques including FibroScan and magnetic resonance imaging, proton density fat fraction (MRI-PDFF) respectively. Using non-invasive measures, MAESTRO-NAFLD-1 is designed to provide incremental safety information to support the NASH indication, as well as provide additional data regarding clinically relevant key secondary efficacy endpoints to better characterize the potential clinical benefits of resmetirom on cardiovascular and liver related endpoints.
Topline results for the MAESTRO-NAFLD-1 study were announced in January 2022. Primary and key secondary endpoints from the double-blind placebo-controlled 969-patient portion of the study were achieved and demonstrate that resmetirom (1) was safe and well-tolerated at 80 and 100 mg in patients treated for 52 weeks, (2) provided significant and clinically relevant reductions in liver fat as measured by MRI-PDFF and (3) significantly reduced atherogenic lipids, including LDLc, apolipoprotein B and triglycerides.
Adverse events observed in the MAESTRO-NAFLD-1 trial were generally mild to moderate in severity. The frequency of serious adverse events was similar across treatment arms and discontinuation for adverse events was low. Serious adverse events occurred at expected rates based on the patient population.
Consistent with published data, the most common adverse event reported with greater frequency in the resmetirom groups vs. placebo was generally mild diarrhea or increased stool frequency at the beginning of therapy, which occurred in 9% and ~17% over the placebo rate in the 80 and 100 mg dose groups, respectively, and did not lead to discontinuation.
An Open Label Arm Study Will Assess Non-Invasive Measures of Safety and Efficacy in Non-cirrhotic and Cirrhotic Populations
MAESTRO-NAFLD-1 also includes an open label arm with approximately 170 non-cirrhotic patients with NASH treated with 100 mg resmetirom. Data from the open label portion of the study have been reported at various professional society conferences, demonstrating statistically significant reductions from baseline in liver fat as assessed by MRI-PDFF and Fibroscan CAP, as well as reductions in liver stiffness as determined by MRE and Fibroscan TE (a surrogate for liver fibrosis). Markers of liver fibrosis and inflammation have also been reduced by resmetirom relative to baseline. Additionally, atherogenic lipids, including LDL-cholesterol, apolipoprotein B, triglycerides, and lipoprotein (a) were reduced relative to baseline. The adverse event profile in this open label cohort has been similar to that observed in Phase 2.
The MAESTRO-NAFLD-1 open label arm also includes more than 150 NASH patients with compensated cirrhosis to obtain a preliminary assessment of the use of resmetirom in patients with more advanced disease.
The extension of this study (MAESTRO-NAFLD-OLE (open label extension)) will generate additional longer-term safety and efficacy data, as well as demonstrate the value of available non-invasive imaging and biomarkers to better diagnose and monitor patients with NASH.
MAESTRO-NASH: A Phase 3 Safety and Efficacy Study
MAESTRO-NASH is a pivotal Phase 3 safety and efficacy study of resmetirom in patients with liver biopsy confirmed NASH. Initiated in March 2019, the study is evaluating patients with liver fibrosis stage 2 or 3, randomized 1:1:1 to receive resmetirom 80 mg once a day, 100 mg once a day, or placebo. The study will initially evaluate FDA-defined surrogate endpoints after 52 weeks of treatment to support submission for accelerated approval. Patients will continue to be enrolled and treated for up to 4.5 years to measure outcomes in order to support full regulatory approval:
To meet requirements for accelerated approval, the dual primary surrogate endpoints on biopsy are NASH resolution with at least a 2-point reduction in NAS (NAFLD Activity Score), and with no worsening of fibrosis OR a 1-point decrease in fibrosis with no worsening of NASH. Achievement of either primary endpoint is considered a successful trial outcome. A key secondary endpoint is lowering of LDL-C.
Madrigal announced achievement of the planned target enrollment in MAESTRO-NASH to support the planned Subpart H (Accelerated Approval of New Drugs for Serious or Life-Threatening Illnesses) submission to the FDA on June 30th 2021.
The full outcomes portion of the study will measure long-term hepatic clinical outcome events, including progression to cirrhosis and decompensated liver cirrhosis. Up to 2,000 patients will be enrolled in the MAESTRO-NASH study.
MAESTRO-NASH Outcomes: A Noninvasive Phase 3 Outcomes Study in Patients with Compensated NASH Cirrhosis
In August 2022, Madrigal initiated MAESTRO-NASH Outcomes, a randomized double-blind placebo-controlled study in approximately 700 patients with early NASH cirrhosis to allow for noninvasive monitoring of progression to liver decompensation events. A positive outcome is expected to support the full approval of resmetirom for noncirrhotic NASH, potentially accelerating the timeline to full approval. In addition, this study has the potential to support an additional indication for resmetirom in patients with well-compensated NASH cirrhosis.
Resmetirom Reduced Liver Fat and Helped Patients Achieve NASH Resolution in a Phase 2 Study
The results of a 36-week, Phase 2 trial of resmetirom in 125 patients with biopsy-confirmed NASH (fibrosis stages 1-3) was published in The Lancet in 2019. Resmetirom, dosed once daily, produced a statistically significant reduction in liver fat at 12-weeks (the primary endpoint) and 36-weeks as measured by MRI-PDFF. Statistically significantly greater resolution of NASH was observed in patients treated with resmetirom compared with placebo. In addition, resmetirom lowered biomarkers of liver fibrosis, as well as multiple atherogenic lipids, including LDL-cholesterol, apolipoprotein B, triglycerides and lipoprotein (a).
Further analysis of the Phase 2 data has demonstrated a relationship of the MRI-PDFF reduction seen at week 12 to liver biopsy component response, both liver fibrosis reduction and NASH resolution. Adverse events in this trial were mostly mild to moderate and were balanced between groups except for a higher incidence of generally mild diarrhea and nausea with resmetirom, which resolved early after initiation of therapy. A 36-week extension of the Phase 2 study established resmetirom 80 mg and 100 mg as doses for assessment in the two Phase 3 MAESTRO trials.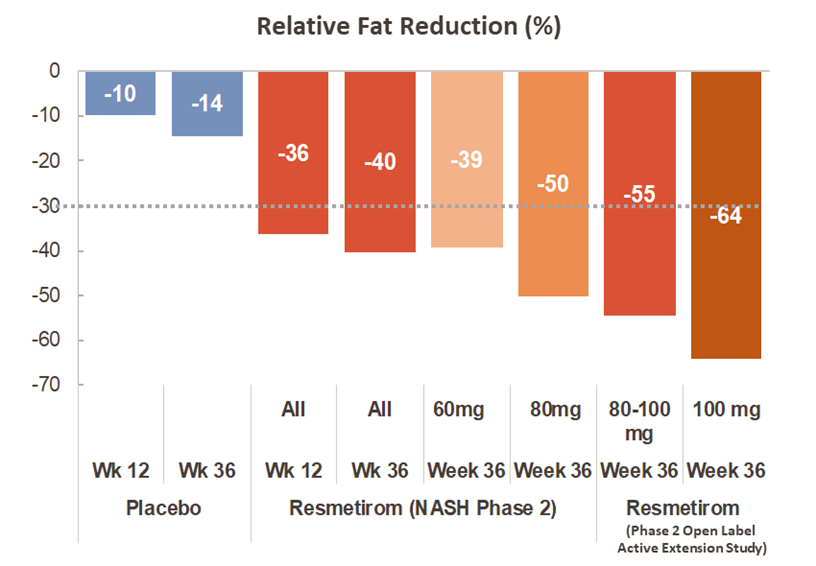 Resmetirom responders with ≥ 30% PDFF reduction had higher rates of NASH resolution (37%) on Week 36 liver biopsy compared to
non-responders (4%)