Transforming the Treatment of NASH
Madrigal's most advanced clinical candidate, resmetirom, is a once daily, oral, thyroid hormone receptor (THR) β-selective agonist designed specifically to treat the underlying causes of NASH in the liver, while improving multiple atherogenic lipid profiles.
Mechanism of Action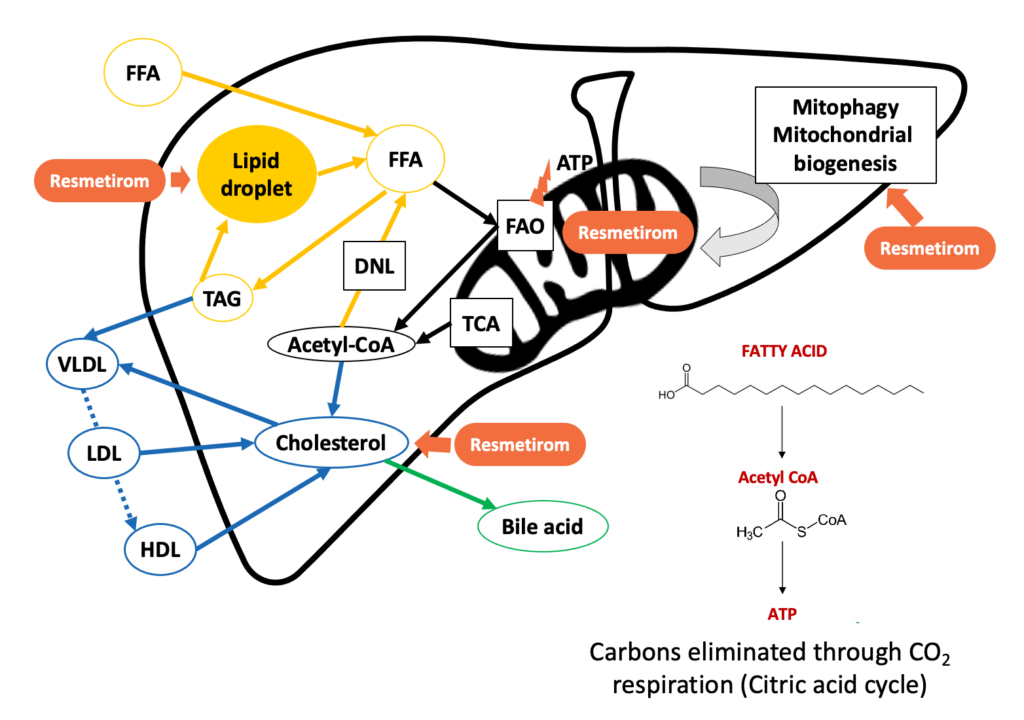 Thyroid hormone, through activation of its β-receptor in hepatocytes, plays a central role in liver function impacting a range of health parameters from levels of serum cholesterol and triglycerides to the pathological buildup of fat in the liver. THR-β action is key to proper liver function, including regulation of mitochondrial activity such as breakdown of liver fat and control of the level of normal, healthy mitochondria. Patients with NASH have reduced levels of THR-β receptor activity in the liver.
To optimize effectiveness of the THR-β pathway for therapeutic purposes in liver diseases, it is important to avoid activity at the THR-α receptor, the predominant systemic receptor for thyroid hormone responsible for activity outside the liver including in the heart and bone.
Madrigal recognized that greater selectivity for THR-β and liver targeting would be needed to deliver the full therapeutic potential of THR-β agonism. Resmetirom has been shown to be highly selective based on:
Both in vitro and in vivo THR-β receptor functional assays.
Specific uptake into the liver, virtually avoiding any uptake into tissues outside the liver.
To date, in short and long-term human and animal studies, resmetirom (1) has been shown to be generally safe and well-tolerated, (2) lacks clinical activity at the THR-α receptor and does not impact bone or cardiac parameters, and (3) does not impact thyroid axis hormones.
Resmetirom is the only orally administered, small-molecule, liver-directed, truly β-selective THR agonist in Phase 3 development.